Artworks by trans artists from Tamil Nadu will be featured in the exhibition | Chennai News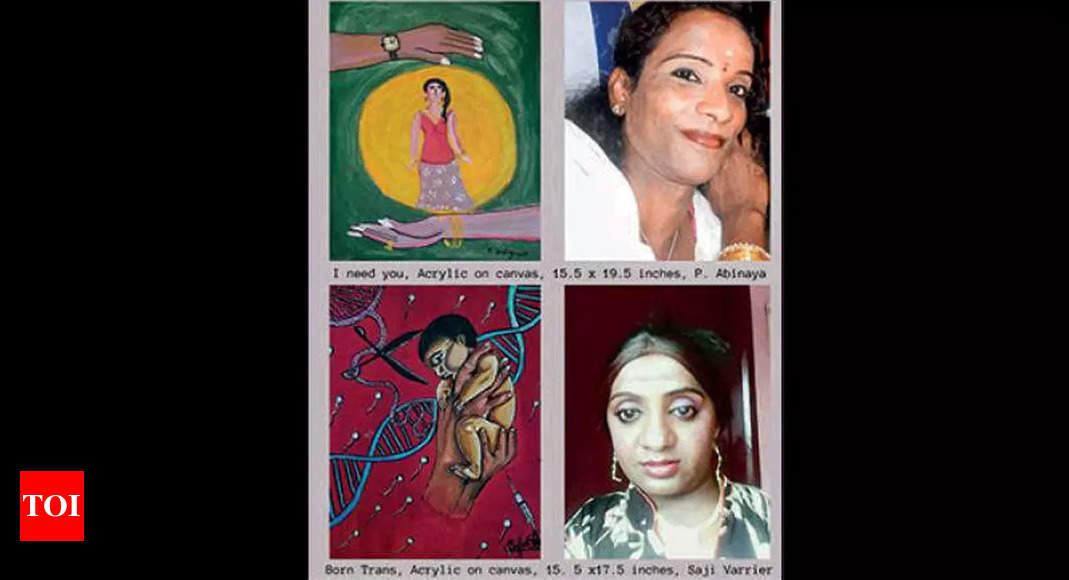 CHENNAI: Trans woman Abinaya has always turned to art to express her feelings and raise awareness of her community.
She died last year, but her artwork, 'I Need You', and that of seven other Tamil Nadu trans artists, will soon be featured in 'Visibility & Remembrance: Standing with the Trans Community', an exhibition organized by the Department of Women and Gender Studies, University of South Florida.
The exhibition, which will take place both virtually and offline, will open on November 17.
"Abinaya's painting shows a transgender person protected by the hands of a man and a woman. She said that instead of discriminating against trans people, society should understand and accept us," says Kalki Subramaniam, founder of the Sahodari Foundation, whose works are also part of the exhibition.
The Foundation has been running art workshops for community members since 2017. "We do creative projects that promote activism and livelihoods through art for trans people. I think art is a universal language that is understood by anyone from any part of the world. Art has the power and freedom to express what one wants, is transformational and has the power to bring change," says Kalki. "For example, Abhinaya is gone, but his artistic work remains powerful."
The Sahodari Foundation received an invitation from the University to submit applications because it is one of the few organizations in Asia working with trans people that focuses on art, says Kalki. "The exhibition wants people from TG to submit works in solidarity with the community; to celebrate and make more visible the experiences of trans people and fight against their exclusion and erasure from various aspects of society," she says.
Works by eight transgender artists, seven trans women and one trans man – A Rupakala, V Rambha, S Ramesh, (late) Abinaya, Silky Prema, Saji Varrier, Santhiya P and Kalki Subramaniam – have been selected for the exhibition.
"All paintings are acrylic on canvas except mine, which is a
mixed media
artwork. Titled "I Within," the two-panel artwork explores the many facets of a TG person – who is still a child with his mother, a lover with his partner, and his true self with friends. These are the different shades of my soul, and it's all authentic," Kalki says, adding that she also submitted one of her poems 'Don't Tell Me. "
The exhibition will last six months. "It's the first time these artists have exhibited their work in an international forum, and it's great recognition," says Kalki.