Wedgewood-Houston
Lydia Moyer and Sam Lavigneit is Election propaganda the exhibition opens at Unshared hobbies on Saturday evening and will continue until November 9, the day after Election Day. The title of the show – and its timing on the fall arts calendar – are no accident. Election propaganda aims to highlight, interrogate, and ultimately satirize the aesthetics of contemporary American political advertising. It's a devilish art form in itself that developed alongside mid-century television technology and in the endless loop of the 24-hour cable news cycle before seeping onto the doomscroll social applications on our mobile devices. Moyer's work generally focuses on an individual response to contemporary social, political, and environmental crises, and Lavigne's art is concerned with data, surveillance, and policing.
Every artist contributes to it, but Election propaganda is ultimately a group exhibition with more artists added to the video loop on display each week in the gallery's Packing Plant space. On election night, the various collaborative video contributions will be a frenetic dance of partisan pixels to match the hyped madness that represents how democracy works in America. Let's hope this exhibition places a joyous stake at the heart of the duopoly puppet show of the political establishment, and isn't just another forgettable contribution to the ignorant junk heap of political propaganda created by artists who has proliferated over the past half-decade.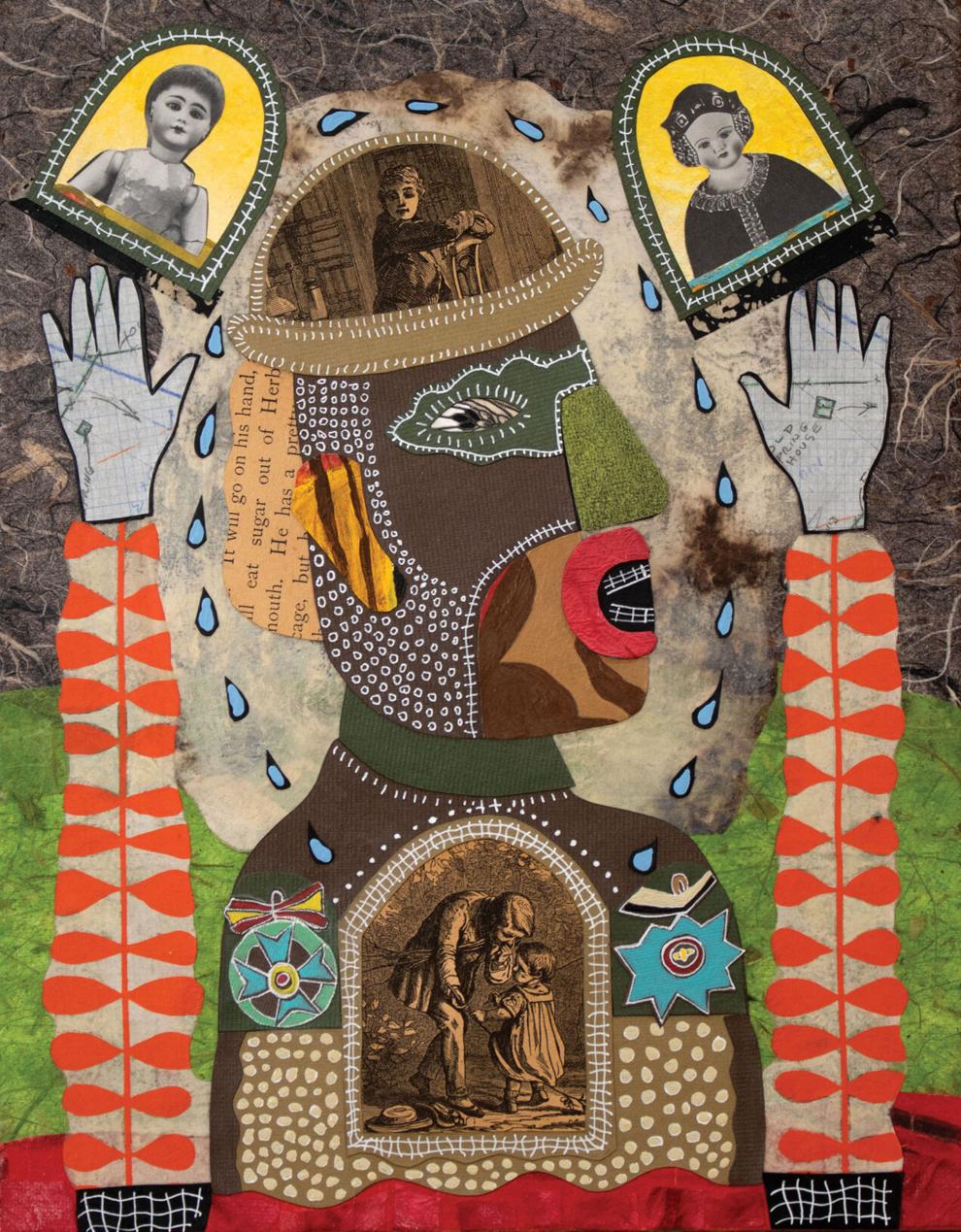 Nashville-based artist Delia Seigenthaler brings paper, magazines, old photographs, a stack of his mother's correspondence art school books, mass-produced artwork, thrift store finds, antique children's books, catalogs of wallpaper dolls and flowers at his exhibition at Julia Martin Gallery, Trials and decisions. The display of multimedia works is, predictably, fashioned from lots of colorful cutouts and scraps, but it eschews the kitschy cliches that make a lot of collage art read like clever novelty displays. and forgettable. This work is actually strange and beautifully mysterious. Seigenthaler's puppet-like sculptures are truly spooky – perfect for this dark season of pumpkin cackling, pagan holy days and masked movies.
The artist's 2D work features various characters reconstructed from mismatched elements, much like Mary Shelley's monster — the first exquisite corpse. These works – like most figurative art – evoke stories. But where a lesser artist would give us visual puns or Hallmark-style messages, Seigenthaler delivers new fables, forgotten mythologies, and neo-alchemical compositions hinting at hidden knowledge buried between their layers. If you like gluing and assembling well done, and you've already got your Halloween costume planned, you'll want to make like a vampire and hang in there at the Opening Reception – 6-9pm this Saturday night .
Number art journal was founded in Memphis in 1987. It is one of the oldest such publications in the South, and for Number, the South is a very big place. I wrote more about the history of the journal in the Stagethe recent fall guide to and one of NumberThe most admirable and ambitious premise of is that the region known as the South includes everything from Arkansas to Florida, and from Maryland to Texas. The journal has documented the best of contemporary art in 17 states for 35 years, and their Southern Arts exhibition-benefit organizes annual exhibitions of the best works made through Numberis very wide "South".
The exhibit has been off the calendar since 2019 due to the pandemic, but is making a triumphant return to The spirit of the times this Saturday. Southern Arts used to signify an annual pilgrimage to Bluff City – twist my arm and force me to eat barbecue and buy another Graceland shot glass, or watch Mystery Train for the 86th time. Number recently moved to The Packing Plant in Nashville under the care of an acting editor Jon Sewell. And this first Southern Arts in Music City is judged by the senior curator of the Frist Art Museum Katie Delmez, which blindly selected 86 works for this sprawling regional survey. The show's Middle Tennessee-based artists include Cesar Pita, Dooby Tompkins, Omari Booker, Amelie Briggs, Sai Clayton, Paul Collins, Lindsy Davis, Elise Drake, DaShawn Lewis — and your servant. Zeitgeist is celebrating with an opening reception from noon to 6 p.m. this Saturday.
Downtown
Mel Beallit is Life in widening circles open to The navigation room in the Downtown Presbyterian Church this Saturday night. Beall's title immediately reminds me of life in recent years as we each emerge from the worst of the pandemic at our own pace, slowly recovering our freedom of movement and reconnecting with our friends and family after our lives have so suddenly shrunk . and severely. Beall's show is actually much more universal, timeless and generally human than that, exploring the expanding nature of our lives as we grow and experience and hopefully gain some wisdom between the cradle and the grave. .
Beall's work combines her training as a textile artist with the meditation seals she has drawn in her practice as Artist-in-Residence at Downtown Presbyterian Church. The sigil design usually begins with a prayer, an intention, or a written request. Individual letters are broken down into basic lines and shapes, which are recombined into a symbolic design as the original phrase disappears and dissolves into the depths of the artist's subconscious mind, resulting in textual paintings you cannot not read. Life in widening circles' The themes of vitality and mortality are a great match for the build-up to All Hallows' Eve, and you can commune with these spirits at a reception in the Navigation Room from 6-8 p.m. on Saturday nights.