Experience the Civil War with the "Distant Drum" art exhibit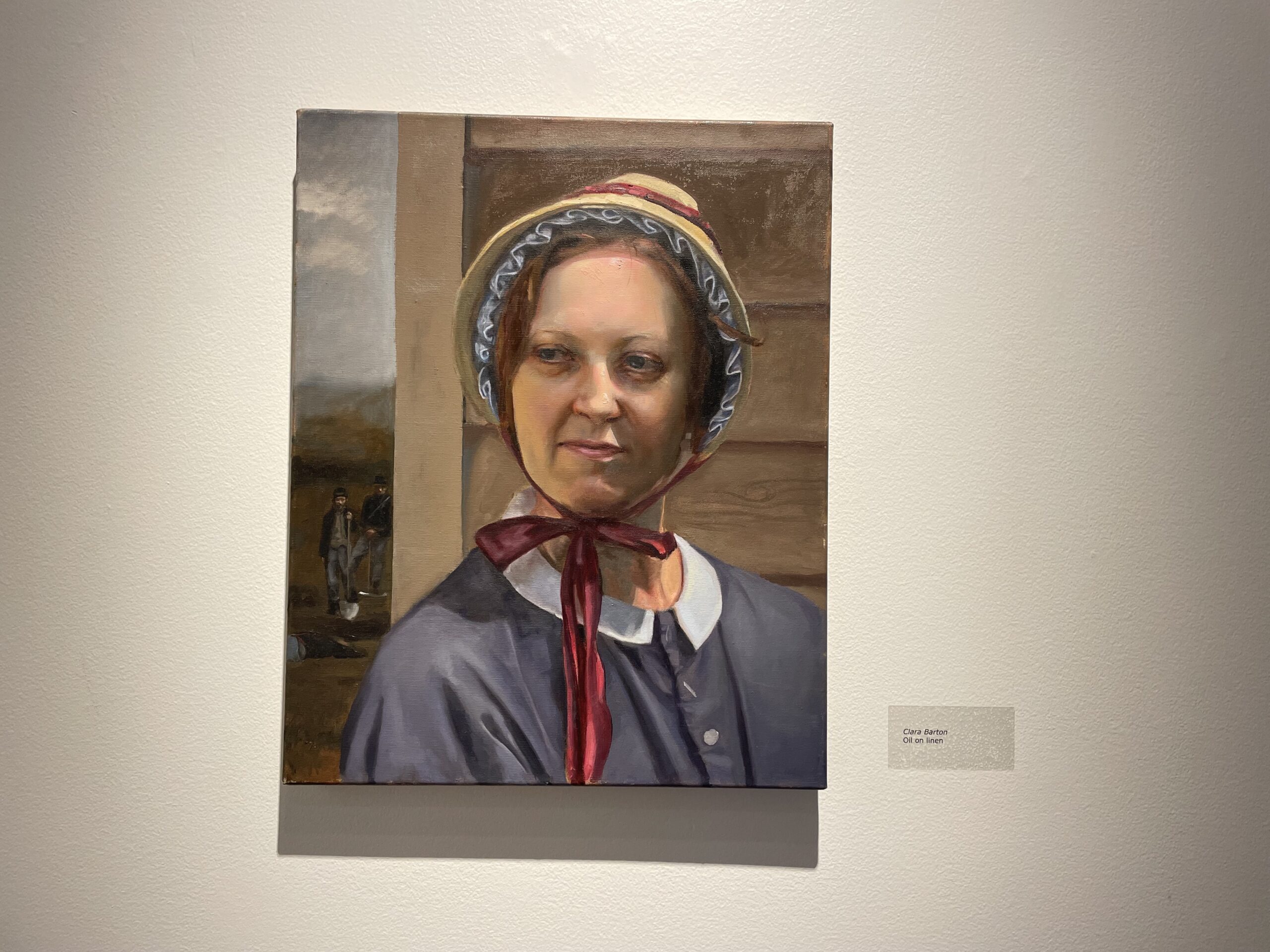 From October 3-23, a solo art exhibition titled "Distant Drum" by artist William Blake is currently on view at the Wadsworth Family Gallery. As Blake specializes in historical re-enactments, the exhibit features paintings of Civil War-era figures.
"He specializes in Civil War reenactments, so when he attends reenactments, he actually presents himself as an artist, who at the time would have depicted the war," said the art gallery director, Natalie Swain. "So all these paintings that are here [in the gallery] are based on these reconstructions and [he] also depicts an artist who allegedly documented the events that took place during the war.
On Blake's website it is mentioned that he lives and works outside of Chicago and that his recent paintings depict scenes from American Civil War reenactments that he has been involved in for over 15 years. Some of his life-size portraits reference artist-correspondent Winslow Homer's croquet paintings created during and shortly after the Civil War.
"He likes to show how the past relates to the present, so he brings out these re-enactment-based paintings," Swain said. "It kind of helps us connect with what's happening today and since the war was from 1861 to 1865, an artist named Winslow Homer would have been the one to document through painting."
Of all the pieces featured in the gallery, Swain says her favorite painting is the one titled "Portrait of Aurora" because she appreciates the size and scale, as well as the fact that it is well painted and realistic. For this painting, he made the canvas by nailing the canvas to wood.
"I love the sketch, its size and scale and it's definitely the biggest painting in the series," Swain said. "I think he's just trying to describe how it would have been back then, how they would have done these canvases and paintings."
On Blake's website, it is also mentioned that he is an adjunct faculty member at Harper College, where he has taught figure drawing since 2020.
"He's a teacher, but he also sells his work and he's represented by a gallery in downtown Chicago, so he's been successful with that," Swain said. "We just like to show [the students] what it would be like for an artist working in his field.
Usually, for most exhibitions held in the gallery, Swain does not take any commission on the pieces sold by the artists. For this exhibition, since Blake is represented by the Victor Armendariz gallery located in downtown Chicago, all sales of his pieces go through this gallery, which then takes 50% of his commission.
"They're for sale, but because it's represented by a downtown gallery, all sales have to go through them, so a gallery is a business and they have to sell art and to stay afloat, they have to sell art," Swain said. [50 percent] Sounds like a lot but keep in mind this is a business which is why they take so many and also why art tends to be more expensive.
Students are encouraged to view this exhibit in the gallery as it is good for students to see the artwork that can visually tell them something about the present. Swain showed four professors around the gallery with their classes, including history professor Dennis Cremin, philosophy professor Arsalan Memon, and art professors Mark Swain and Leslie Colonna.
"I think it's good to see something like this because the past can tell us something about the present and the future," Swain said. "We had a few teachers visit with their class and they were able to have a discussion about the artwork."
The gallery talk and reception for this ongoing exhibition will take place on October 20 from 7-9 p.m., where there will be a Q&A with the artist himself. Students who attend will be able to earn an Arts & Ideas credit.
The next exhibition in the gallery will show works of art from an Iranian group "Didaar Art Collective" which is made up of 16 artists and their conference will be held on November 3.
Photo credit: Katelyn Leano