Is maximalism the most overlooked art movement of all time?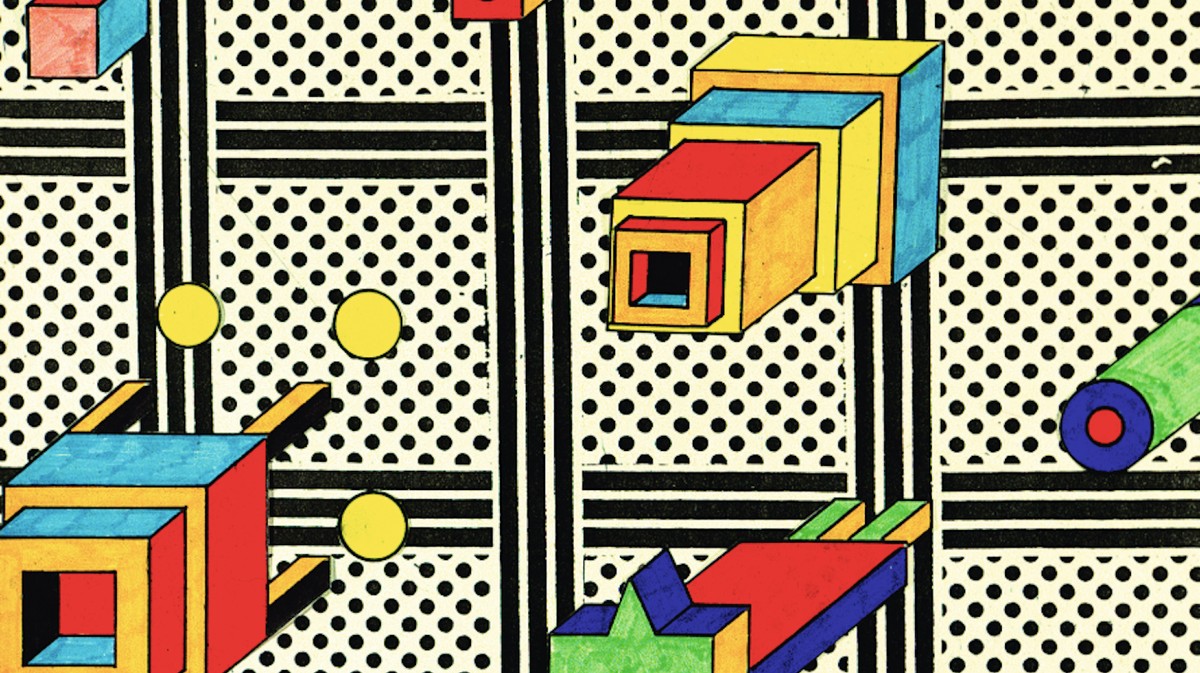 Just when you thought minimalism was forever in vogue, a new art exhibit proves otherwise, and it bears the best title: "Less is a Bore." Boston's ICA recently opened this group exhibit, touting the movement's eye-catching prints, contrasting colors and dizzying designs. Curator Jenelle Porter, who worked alongside assistant curator Jeffrey De Blois, explains that some of the inspiration came from interior design magazines and how fake they are.
"Every time you look at Shelter magazine, it's like people don't even live in those houses," Porter said. "It's so simple, it's not my taste. Minimalism portrays a kind of wealth, that the less you have the more refined you are, but we all have maximalist tendencies.
It all started by looking at the Pattern and Decoration art movement of the 1970s, an American art movement of the 1970s and 1980s, which includes works by Miriam Schapiro, Joyce Kozloff and Gloria Klein. That's what Porter says, "has been somewhat overlooked." But is maximalism an artistic movement in itself? "It is not the ideas of maximalism that guide these artists. I consider it to be an under-recognized approach, more than an art movement," Porter said.
The exhibition, which runs until September 22, features works by Kehinde Wiley, Sol LeWitt, Polly Apfelbaum, Jasper Johns and the Memphis Group. Among them, here are five key pieces from the exhibition that bring the walls of the gallery back to life, from patterned wallpaper to grandma's tablecloth and furniture from the Memphis Group.
Ettore Sottsass, Casablanca Sideboard, 1981, wood and plastic laminate, 90.5 x 59 x 15 3/4 in., collection of Keith Johnson and Celia Morrissette, Urban Architecture New York, photo by Aldo Ballo, courtesy Memphis
Ettore Sottsass, founder of the Italian postmodern design collective Memphis Group, crafted some of the most extravagant furniture of the 1980s, which defined the design of the decade. "Maximalist design can't always be soothing, it can make people feel uncomfortable," Porter said. "You have to be comfortable with the discomfort." This piece is what she calls "bringing history back into the vocabulary of design" and asks, "Why is everything removed? The decoration and ornamentation are very human.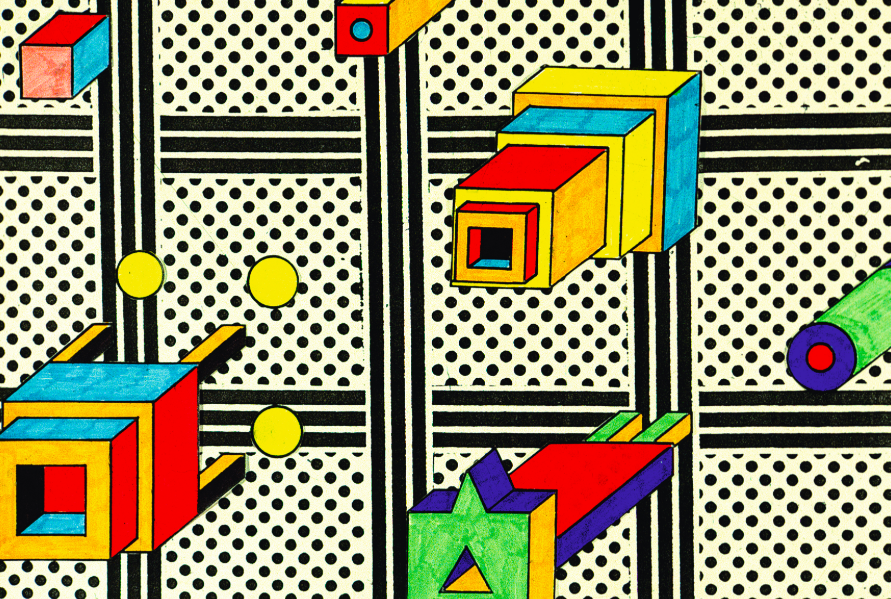 Nathalie du Pasquier, Untitled, around 1984, felt pen and collage, courtesy of the artist.
Nathalie du Pasquier was another designer from the Memphis group in Italy, pioneering work with color, pattern and repetition for the design of clothing, textiles and furniture throughout the 1980s and 1990s. Today she works as an artist in Milan. "She did amazing things with patterns and did a lot of patterns with Memphis," Porter said. Here at ICA Boston, she created a custom wall piece based on one of her designs; a city grid with buildings turned into wallpaper. "It's a decorated grid," she said.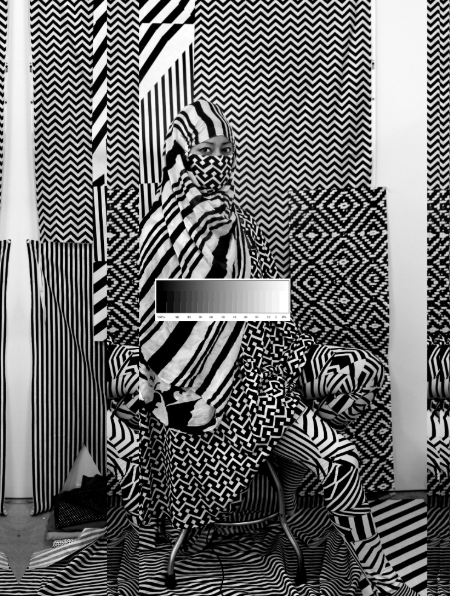 Stephanie Syjuco, Cover-Up, 2016, from Cargo Cults series, pigment inkjet print, 20 x 16 in., courtesy Catharine Clark, San Francisco
This self-portrait photograph shows Filipino artist Stephanie Syjuco dressed in a variety of patterned garments, many of which clash in dizzying compositions. "It's from her series where she's shopping in malls, buying things, and photographing herself wearing ethnic prints that come from all over the world," Porter said. "She then takes all the clothes back to the store. You can see that she leaves the tags. Disguising herself in standard consumer clothing, she puts a charged object back on the rack, no one really knows.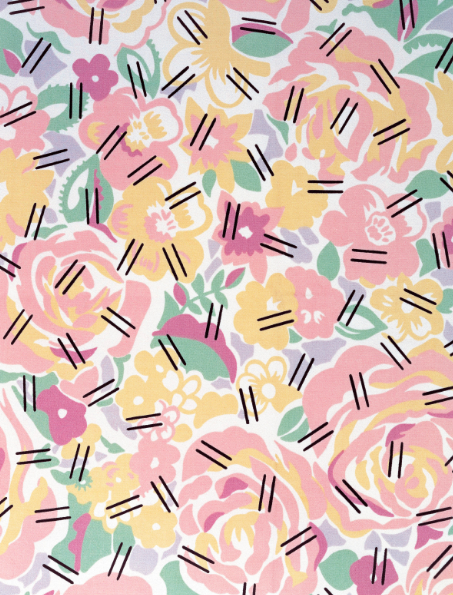 Robert Venturi, Scott Brown Associates, Grandmother, 1983/2019, pigment on cotton sateen, 56 in., produced in collaboration with the Fabric Workshop and Museum, Philadelphia. Photo by Will Brown.
Pritzker Prize-winning architect Robert Venturi is best known for his buildings (many reminiscent of pastel-hued towers that could be from a Wes Anderson movie), but his design work goes beyond that. "He did a floral pattern borrowed from someone's grandmother's tablecloth," Porter said. "Then he added the Jasper Johns hatches that were popular in the 1970s, it's an atmosphere. I wanted to show it in fabric form.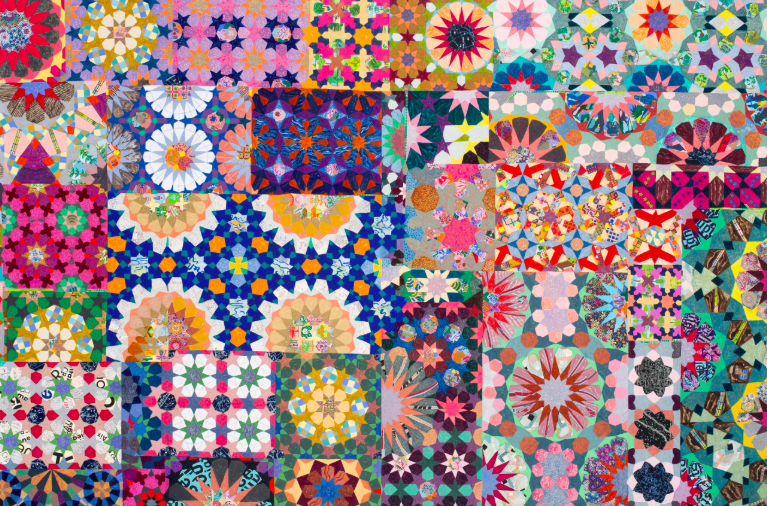 Joyce Kozloff, 'If I Were An Astronomer: Boston,', 2015, mixed media on canvas, 37 x 55 in., courtesy the artist and DC Moore Gallery, New York
A key artist in the Pattern and Decoration movement, artist Joyce Kozloff is known for her pattern-based textiles, collages and paintings from the 1970s to the present day. Using mostly floral designs reminiscent of vintage tablecloths, they are all painstakingly handmade. "The tiles in his work reference motifs from the Middle East and China, everywhere but the west," Porter said. "These are places where the stories are older, it's a way of paying homage to other cultures, all of them are equally important."