Public art to animate two intersections under the Gardiner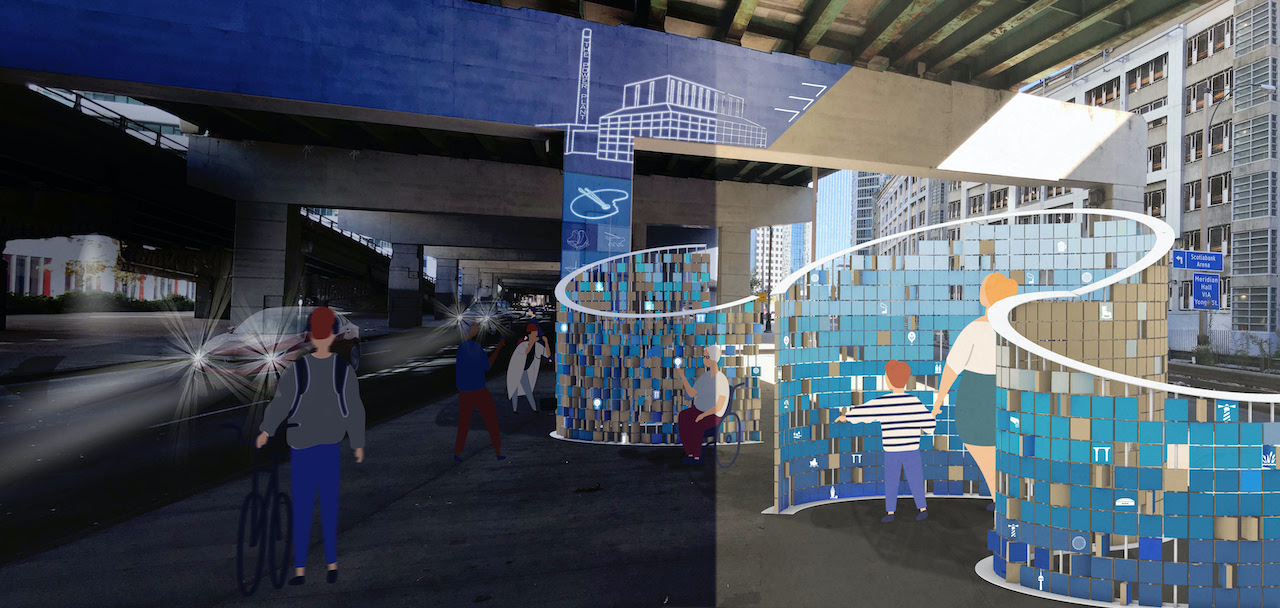 There will soon be new vibrant public artwork adorning the underside of the Gardiner Expressway. Reconnect at the water's edge – a collaboration between The Bentway, the City of Toronto, the Waterfront Business Improvement Areaand the Toronto Downtown West Business Improvement Area – recently picked two winners of their national design competition. The aim of the competition was to explore the possibility of reimagining the bland concrete streetscape as a vital connection point.
The winning drawings are booming city, be located along Lake Shore Boulevard at York Street, designed by 5468796 Architecture and office looking for; and pixel story, located on Simcoe Street, designed by O2 planning + design, Mulvey & Banani Lighting and ENTUITIVE. The winning proposals will be installed at both intersections in 2022.
Public art adds great value to the cultural, aesthetic and economic vitality of a community. More than that, studies show that investments in public art can also improve street safety, provide tourism and new jobs, and combat social isolation and anxiety. It is now a well-accepted tenet of urban design that public art contributes to a community's identity, fosters community pride and a sense of belonging, and enhances the quality of life for its residents and visitors.
Boom Town at York Street by 5468796 Architecture and office looking for
According to the proposal, "Boom Town is a theatrical reimagining of the waterfront gateway that brings a cast of playful characters to life and animates the space with personality and delight."
The team behind the whimsical design will transform a trio of boom lifts into what they call "Bent Buddies" named Trekker, Tinker and Trouper, who will cheer up and welcome people to the site. "For a while, our ideas struggled with boundaries, but in the end, they became the starting point for something that was simple, memorable, fun, and accessible to people of all ages and backgrounds," said Johanna Hurme of 5468796 Architecture.
Pixel Story takes a different approach. According to the proposal, "Pixel Story integrates wayfinding for different distances, speeds and modalities through visual cues that highlight waterfront attractions and experiences on both sides of the Gardiner, enticing visitors to move forward or do a pause to observe."
Pixel Story at Simcoe Street by O2 Planning + Design, Mulvey & Banani Lighting and ENTUITIVE
The design features curved mosaic-covered walls that resemble the waves of the lake, providing pedestrians with the opportunity to physically interact with the installation. "Pixel Story's design strategies bring the industrial scale of the Gardiner down to the level of human interaction," said Grace Yang of O2 Planning + Design.
The art installations are temporary and will be in place until 2025-2028. They will serve as demonstrators, testing experimental and innovative approaches, and will remain in place until the Gardiner Expressway is rehabilitated in this area.
Are you interested in public art? The City of Toronto has a site where you can discover all the facilities there is to see through an interactive map. There is also ArtworxTO, a city-funded initiative to promote public art in Toronto. More information on this facility will be coming soon, but in the meantime you can join the conversation in the comment space provided on this page.
* * *
UrbanToronto's new data research service, UrbanToronto Pro, offers comprehensive information on construction projects in the Greater Toronto Area, from proposal through completion stages. Plus, our subscription newsletter, New Development Insider, drops in your mailbox daily to help you keep track of projects through the planning process.